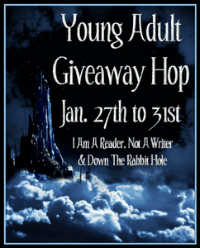 Young Adult Giveaway Hop
Hosted by I Am A Reader, Not A Writer & Down the Rabbit Hole
Hop Rules:
•Each
participating blog will host a giveaway on their site.
•The giveaway must be for a young adult book.
•No more than 4 possible entries per person.
•Offering a Gift Card or a young adult book of choice is ok.
•You do not have to be a young adult review blog to participate. Any family friendly blog or site is welcome to join.
Please mark your calendars. A reminder email will be sent out about a week before the hop starts.
To enter please add your blog to the linky with your shipping information in parenthesis after your blog name.
If you have any questions email me toobusyreading-at-gmaildotcom
So for all of you who want to join, click on the picture at the top to go to I Am A Reader, Not A Writer... you don't have to host a giveaway, you could just enter :)